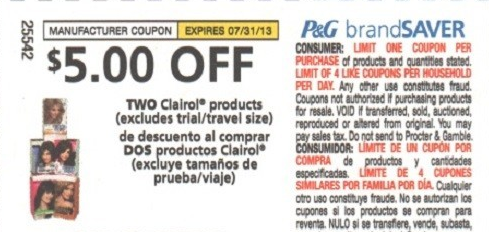 It came up yesterday that the $5/2 Clairol coupon in Sundays PG insert could work on Herbal Essences as it is technically a Clairol product.
Thanks Mash Up Mom for letting us know what Clairol had to say:
Thank you for reaching out regarding the $5 off of 2 Clairol products coupon in Sunday's newspaper and we sincerely apologize for any confusion it may have caused. It was our intent that the coupon be good for $5 off of any 2 Clairol hair color products…….
Head over to Mash Up Mom here to see the rest of what Clairol had to say and Mash Up Moms thoughts . (FYI I agree with her ) Thanks Mash Up Mom!
This post may contain affiliate links